DIAGNOSTIC SERVICES.
Diagnostic's please remember that any electronic control unit has sensors & actuators. Sensors report on temperatures, pressures, positions & speeds, Actuators act as the ECU (electronic control unit) requirements. Should the ECU see a reading from a sensor or actuator which is outside of parameters then it can switch on the warning light, run the engine with reduced power, stop airbags working, stop anti lock brake function etc
IF YOU HAVE A WARNING LIGHT ON. If it is red stop straight away and call for help, it is possible you may have a problem, if it is yellow, stop, check & call, does everything appear OK, IE: if the engine/emissions light is on then does the engine sound noisy, under powered, misfiring, knocking if so stop call for help if unsure stop call.
Remember if the AIR BAG or ABS / ESP warning lights are on this means that the system will not function.
We use the very latest and up to date diagnostic computers to service, repair & keep your vehicle up to date. we update every 7>10 days, most common diagnostic computers are only updated every 3>6 months.
BASIC settings adjustment and adaptions. Fuel adjustments, throttle body adaption, egr setting, ecu stored learned values erased, etc.
UPDATE of control unit SOFTWARE, many electronic items (computers, mobile phones) have regular software or firmware updates, the modern motor vehicle can have over 16 control units (computers) sometimes the manufacture upgrades the software contained within, we can complete software version updates. WHY are software versions required ? because the manufacturer has found that there is a problem in programming, there is a running issue, the parameter of a sensor is too wide or narrow causing false illumination of warning lights (engine, brakes, glow plugs) the engine was noisy or using excessive fuel.
Activate systems. switch on retro fitted cruise & towing electrics, re-program TV to function during driving.
Code control units. Reprogram systems switching on or off the horn/lights/indicators when you are turning alarm on/off comfort locking/unlocking via speed. turn on or off selective locking/unlocking. REPLACE AIR BAG control units, long coding of control units when the part has changed and modified by VW.
ABS power brake bleeding. After repair or replacement of brake parts specially abs pump the brake system requires bleeding to remove all air from the hydraulic lines. To do this brake systems require diagnostic connection & activation of pump to bleed valve block, pump & brake lines.
Instrument cluster exchange, If you have a faulty cluster we can possibly repair your unit or replace it with used or new unit. Please note when installing clusters your old cluster details will be downloaded into the diagnostic computer before removal, once the replacement cluster is installed the details will be loaded into the cluster installed, if the cluster is new the mileage will be EXACTLY the same, if the unit is a used part then the highest mileage is selected. This process is fully driven via diagnostic computer ensuring that details can not be changed.
self-leveling suspension calibration
There are many more functions to diagnostics.
DIAGNOSTIC COMPUTER CURRENT VEHICLE COVER :
VW: Fox, Lupo, Polo, Golf, Golf Plus, New Beetle, Classic mexican bug, Jetta, Bora, Tiguan, EOS, Passat, Phaeton, Sharan, Touran, Caravelle, Transporter, Touraeg, Caddy, Scirocco, Amarok, UP,
Audi: A1 A2, A3, 80, 90, A4, A5,100, 200, A6/A6 Allroad, Coupe, Cabriolet, TT, V8, A8, Q7, R8 RS4 RS6 RS3
Seat: Arosa, Ibiza, Leon, Altea, Altea XL, Toledo, Cordoba, Alhambra, Inca.
Skoda: Fabia, Felicia, Octavia, Roomster, Superb
Please note this list is updated as models are introduced, if you model is not listed we have the ability to complete a full vehicle scan of all the control units installed which will be sent to autologic for reverse engineering and decoding. Then we will receive a update from autologic which will have the software required enabling us to correct the fault, complete the service adjustment etc required. We regularly scan vehicles helping to keep us up to date and the level of service to a premium.
Working in this manor has enabled us to work with Autologic to fully decode the mk2 VW LT immobilizer which can be very difficult even for main dealer to program.
KEY CUTTING SERVICE IN SOMERSET
ONSITE VAG KEY CUTTING
**BASE KEY SPECIAL OFFER** **£25.00 PLUS VAT
**FLICK KEYS FROM £110.00 PLUS VAT INC FLICK SQUARE BASE, REMOTE, MG10 CHIP**
We are currently expanding our KEY service dept & aim to be automotive locksmith level for our area and customer base.
Recently a laser key copier has been added to our key service, this gives us the possibility to copy your laser key, code it using our diagnostic computer & then code the remote.
This can all be completed with in 1 hour when your vehicle gives the skc out with the need for vehicle scan, should a scan be required this can take up to 24 hours normally not longer than four hours.
Keys can be cut to code, this takes 24 hours when you supply the code.
Laser keys are keys with the track inside, rather than old style keys with track on the outside. They were introduced from 1997/8> the picture below shows a laser style key. We also cut classic/heritage locks via pattern or code onsite.
Lock replacement, we have several quality lock sets available. A set normally has one ignition barrel, glove box lock barrel, boot lock barrel, and either one or two front door barrels (golf Mk4 is complete with plunger that commonly breaks) and either two flip key base with transponder chip or two basic keys.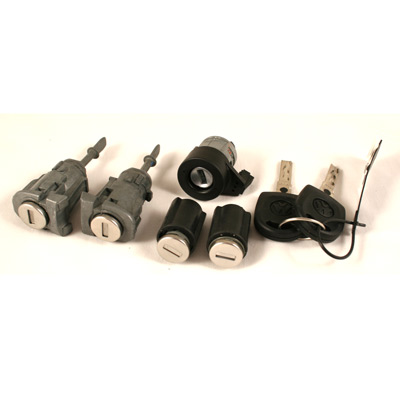 Recode locks. Have you got more than one key, sometimes 3 or 4 ? this process involves decoding your desired key and installing the correct new parts into the locks required enabling restoration of one key system.
We will require you to present identification a vehicle registration document & pay via card bedt or credit, sorry no cash for this service, this is so we can prove we have taken a reasonal precaution and are not copying keys for criminal activity and have full traceablity.